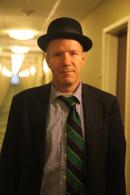 Rick Moody was presented with the insignia of Officer of the Ordre des Arts et des Lettres on 25 April 2019 by Bénédicte de Montlaur, Cultural Counselor of the French Embassy. The presentation was made at the Cultural Services in New York City. This recognition was accorded upon Rick Moody owing to his contributions to contemporary literature and the value placed on these contributions by the French cultural community. Rick Moody is currently Bonderman Professor of the Practice in Literary Arts at Brown — he also holds a bachelor's degree from Brown, where he earned honors in Creative Writing.
Sawako Nakayasu has been named 2019 Woodberry Poetry Room Creative Fellowship recipient for her project, "Sounds of War and N0t-War, 1941-1945." The Poetry Room's fellowship and grants program offers stipends to artists and scholars to undertake creative projects that would benefit from the resources available at the WPR archive, as well as time spent at Harvard University as a whole. Sawako Nakayasu is Assistant Professor of Literary Arts; and a recipient of an MFA in poetry from Brown.
Azareen Van der Vliet Oloomi is the 2019 PEN/Faulkner Award recipient for her novel, Call Me Zebra. "Once in a while a singular, adventurous and intellectually humorous voice appears that takes us on an inescapable journey," the judges wrote in a statement. "Azareen Van der Vliet Oloomi's Call Me Zebra is a library within a library, a Borgesian labyrinth of references from all cultures and all walks of life. In today's visual Netflix world, Ms. Van der Vliet Oloomi's novel performs at the highest of levels in accomplishing only what the written novel can show us." Azareen Van der Vliet Oloomi holds an MFA in fiction from Brown.