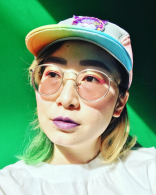 Stine An (MFA '20) has been chosen for the 2020 ALTA Emerging Translator Mentorship Program.  The program is designed by ALTA (The American Literary Translators Association) to facilitate and establish "a close working relationship between an experienced translator and an emerging translator" on a specific project, which will be completed during a nine-month mentorship period.  Stine will work with mentor Joyelle McSweeney to translate a collection of poems by the contemporary South Korean poet and comedic playwright Yoo Heekyung.  For the project, she will build on work that she began in the Fall 2019 Literary Translation Workshop taught by Assistant Professor of Literary Arts Sawako Nakayasu.
 Stine looks forward to having the opportunity to continue to grow as a translator.  "Literary translation is an exciting way for me to explore the Korean language and to learn contemporary Korean poetry.  The mentorship program offers me an opportunity to learn more about the many dimensions of literary translation under the guidance of a mentor whose work I admire," she says.
Stine will also have the opportunity to take part in ALTA's First Look program, which allows participating magazine and book publishers to be the first to read excerpts from the translation project for possible publication.  Her work will be presented at the 2020 ALTA conference in November.